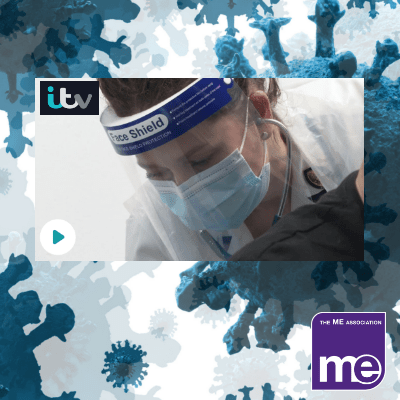 The ITV News channel reports on the drug trial AXA1125 by researchers at Oxford University and mentions that some people with long Covid are having to wait a year to be referred to long Covid clinics. Forty patients are taking part in a randomised, double-blind, placebo-controlled investigation and the results of the trial are expected in early summer 2022.
Read Dr Shepherd's (Honorary Medical Adviser to the ME Association) comments about this trial back in November 2021 by clicking the button below:
Click here to read Dr Shepherd's comments
Research Summary-What are the current treatments being trialled for Long COVID?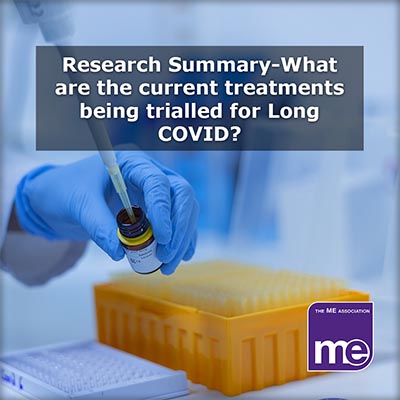 It is currently predicted that 10% of people who are infected with covid fail to fully recover, and develop what is being called Long Covid. Currently, the diagnosis is made 3 months or more after the infection where symptoms are still being experienced as well as impaired functionality. 

This research summary reviews what we currently know about the treatments which are being investigated for Long Covid. Includes audio commentary from Katrina Pears, Research Corresepont to the ME Association via Podbean.
New study confirming endothelial dysfunction in ME/CFS


A research group led by Dr Francisco Westermeier has expanded their study further showing that plasma from ME/CFS patients induces endothelial dysfunction in vitro (experimental work performed outside of a living organism, such as in a test tube) with their results being published in the Journal of Vascular Pharmacology.
This new study showed a decreased production of nitric oxide by the endothelium cells when exposed to plasma from people with ME/CFS, using samples from the UK ME/CFS Biobank (UKMEB)

To find out more about the ME/CFS Biobank on the ME Association website here
Free money for the ME Association every time you do an online food shop
EasyFundraising tells us that on average a family can raise over £100 a year for their favourite charity – just by doing the weekly grocery shop online.
The app lets you shop at over 6,000 retailers – including grocery superstores, computer and hi-tech retailers, DIY places, fashion outlets, holiday stores and price-comparison sites.
Use it to track your donations, invite other people to support the ME Association and receive notifications when you've made a donation to your favourite charity.
Download their app and they'll send you a weekly reminder so the MEA never needs to miss out.